Browning and Beretta Comb Conversions
Replacement adjustable comb hardware conversions are now available for the current thru-the-pad Browning factory and Beretta "Memory System" factory adjustment systems. These conversions will add years of solid performance as well as increased range of horizontal adjustment over the factory systems.
Pictured below are Rod's conversion hardware installations for the Browning and Beretta Break-open guns. Conversion hardware is also now available for the Beretta 391 Memory System.
Beretta/Browning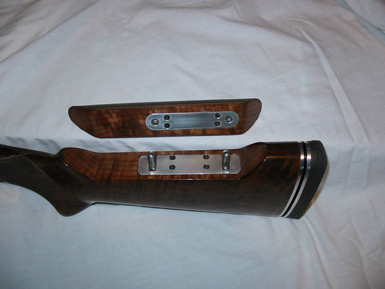 Rod's Conversions for Browning & Beretta: $150.00
*Return Shipping and Insurance extra.